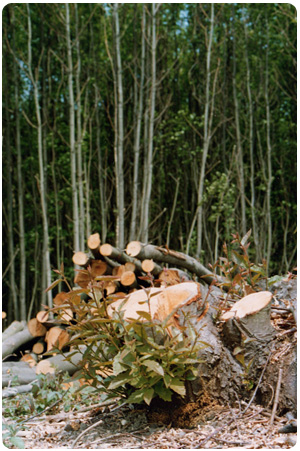 Sweet Chestnut Coppice
Coppicing is a traditional and productive method of woodland management. Chestnut coppicing also makes good use of poor land. It is also the only remaining large scale commercial coppice industry left in the UK.
A coppiced woodland is harvested on a rotation system, approx 13-14yrs for chestnut paling wood and older for post wood, rails etc. This method of management ensures that the coppice will never die of old age, thus keeping our beautiful woodlands alive and thriving for future generations to work and enjoy.
The industry goes back to medieval times. "Castanea Sativa" or sweet chestnut is not a native of our shores, it is a species originally found in southern Europe (ie Spain) which is thought to have been brought here originally by the Romans during the Roman occupation of Britain. The Romans made flour from the nuts and fed their armies sweet chestnut porridge to sustain them, especially through our cold winters.
By the middle ages, plantations were laid down, as it was widely used as fencing and boundary markers, and lathes amongst other things. Another very important usage at the time was for iron smelting, where the charcoal produced was used for the smelting of iron long before the use of coal. The industry was protected and regulated by a statute of King Henry V111.
It is mainly found in the south of England, mostly in Kent and Sussex for climatic reasons. It is warmer in the south encouraging a healthy sustainability and regrowth after coppicing. It does it's fastest growing in the first 2years of regrowth and in doing so absorbs vast quantities of carbon dioxide from the atmosphere making it a truly environmentally friendly product.
As well as the fencing's impact on the enviroment being aesthetically pleasing, the chestnut woodlands enhances the landscape and provides a rich habitat for flora and fauna.