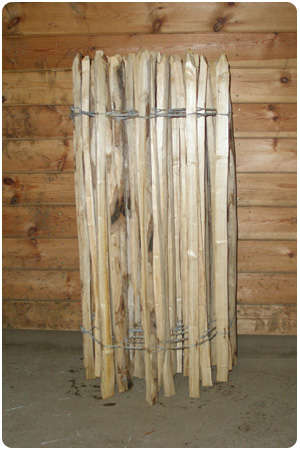 Chestnut Fencing
It is a hand produced product which is aesthetically pleasing and provides a strong durable fence for so many uses. The prepared chestnut is split by hand into pales of various lengths. The pales are then wired by machine into rolls of fences of various heights ranging from 0.6m to 1.8m high and from 3-5cm spacing to 15cm according to use.
We can manufacture in 10yrd/9.1m rolls, 5yrd/4.6m rolls and 5 and 10m rolls With either 2 line wires or 3 line wires.
POSTS, STRAINERS STRUTTS ETC
Intermediate, mixed, rounds, halves and quarters, rustic or shaved and pointed. We supply various heights and diameters of all these products.
Tree Planters come in bundles of 25 from 0.6m to 1.4m according to usage, also suitable for hedge laying.
APPLICATIONS FOR CHESTNUT FENCING AND POSTS
Permanent fencing for public and private areas
Temporary fencing for construction and highways work and site security
Snow fencing and wind breaks
Prevention of soil and beach erosion
Stock fencing
Posts to accompany chestnut fencing
Tree planting
Hedge Laying
All our Chestnut Products conforms to BS1722 part 4. We also have FSC&reg Mix Credit certification
(details available on request).
Contact us now with your enquiries.